For Immediate Release:
The Commensurate
A video program Sponsored by The Thing
THE THING @ WHITE SLAB PALACE
Monday, December 20, 8 pm
77 Delancey Street (Allen and Delancey)
With
The Factory of Found Clothes
Mathew Paul Jinks
Elizabeth Axtman
Curver Thoroddsen
Fiona Whitty
Shana Moulton
Curated by Chelsea Knight
This program is about cultural inheritance. It presents collapsed boundaries—both historical and cultural—as forms of political and social resistance. All of the selections in the screening re-engage stereotypes, fantasies and failure through extreme proximity rather than emotional or narrative distance. In Natalia Gluklya's
Crimson Sails
, young Russian women are working in a factory in Kronstadt, a famous historical place during the 1917 revolution. The factory is invaded by old women who dramatically wrest long bolts of fabric from the young seamstresses and drag them out of the factory, as if to activate the young women against their own history of labor. In Mathew Paul Jinks's
On Sundrun
, a British man in Chicago converses with, and plays a cricket-like ball game with, local Pakistani"Chicagoans who are wearing specially designed costumes and masks to exaggerate the social charade of post-colonial immigrant identity across class. Elizabeth Axtman's video
Where the Party At?
is a single-take of an African American woman dancing in a field in front of a burning cross. Nelly's otherwise benign lyrics take on a sinister tone in the context, and yet the irony of the context plays back against itself in a kind of bacchanalian gesture.
In Curver Thoroddsen's
Trying To Get Out Of The Slump, and I Can Say I'm Sorry, But I Can't Beg Your Forgiveness
, a man is unable to accomplish what we perceive as his desired activities because of a lack of tools and accessories, or his exaggerated use of them. His character sees
us
seeing
him
perform and amplify his role as victim in a funny but uncomfortable way; we are all both pathetic and implicated in our failures. Fiona Whitty's video trailer
Warlord's Wanton Granddaughter
takes up the ironies of profit in war as she films Naomi Campbell testifying on blood diamonds gifted to her by Charles Taylor. Whitty's dizzying media appropriations and chaotic edits dismantle the official faces of fashion as clean and war as dirty and force them together in the gleaming, strangely ugly gaze of Cambell on the witness stand and in the avuncular embrace of Nelson Mandela. In Shana Moulton's
The Galactic Pot Healer
, a woman is guided by messages in her medicine cabinet as she seeks to heal her broken ceramic pot. In the piece, the woman's consumption of new-age objects and redemptive treatments amplifies the fragile economy of her body. The character displaces and then rediscovers her own body in a gesture that joins her, both alien and intimate, with herself.
All of these artists engage proximity and play to challenge conventional associations about our relationships with the cultures and selves we have inherited, and those we have produced.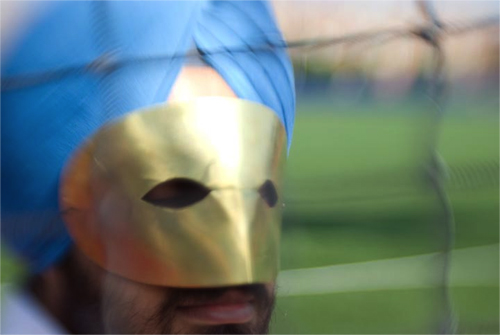 Program:
The Factory of Found Clothes
Crimson Sails, 2005, 7:00
The Factory of Found Clothes (Fabrika Nadyonii Odezhdii in Russian, or FNO for short) is Natalya Pershina-Yakimanskaya and Olga Egorova, respectively known as Gluklya and Tsaplya. Founded in 1995 in St Petersburg, FNO have used installation, performance, video, text and 'social research' to develop an operational logic of 'fragility' as subjectivity antagonistic to that which is the state of things-be that the repressive social and political climate of Russia or the reflexive futilities of international art scenes.
http://factoryoffoundclothes.org
Elizabeth Axtman
Where's the Party At? Single Channel Video, 2006, 3:00
Elizabeth Axtman (b.1980, American) lives and works in Oakland, California & Brooklyn, NY) is a photographer and video artist. She received her BA from San Francisco State University in 2004 and completed her MFA in photography, film, video, and new media at the School of the Art Institute of Chicago in 2006. She was also a participant in the Skowhegan School of Painting and Drawing in 2006 Summer Residency Program. The overall themes of Axtman's work are comprised of dark humor, identity"social politics, and most recently love. Her work is grossly personal while using historical and popular culture references as stand-ins. Axtman can be best described as dogged insolence. She has participated in exhibitions and festivals at the Renaissance Society of the University of Chicago, Gene Siskel Film Center Gallery, Gallery 2; Diaspora Vibe Gallery, Miami; Arthouse, Austin, Tex; ThisIsNotaGallery, Buenos Aires, Argentina; The Studio Museum of Harlem, in NYC; and The Contemporary Art Museum, Houston. She has lectured at the School of the Art Institute of Chicago, San Francisco Art Institute, Evergreen State College, and Sarah Lawrence College, and is a recipient of the Skowhegan Endowment for Scholarship Foundation. Her work has been reviewed in
Art Forum, Art Papers, Houston Chronicle
, and her video 'American Classics' was used as the lead image for the catalog (and press) from the much acclaimed exhibition
Cinema Remixed & Reloaded: Black Women and the Moving Image Since 1970.
Mathew Paul Jinks
On Sundrun, Single Channel Video Installation, 2010 (excerpt: 5:00)
Mathew Paul Jinks is an English artist living, teaching and working in Chicago. He completed his BFA at the Glasgow School Of Art, Scotland in 2005, and his MFA at the University of Illinois at Chicago in Studio Arts in 2008. Solo exhibitions include Gallery 400, Green Lantern Gallery, Hungry Man Gallery, and Deadtech, Chicago, and Cabin Exchange, Glasgow. Mathew has shown his work in exhibitions, screenings and performances including Los Caminos, St. Louis, Three Walls Gallery, the Hyde Park Art Center and The Gene Siskel Center, Chicago, and the Tobago Lane Prison and Parc Circus, Glasgow. His installations, videos and performances appropriate and de-regulate social and historical constructs of self, nation and history.
Curver Thoroddsen
Trying To Get Out Of The Slump, and I Can Say I'm Sorry, But I Can't Beg Your Forgiveness
, both 16mm color film transferred to video, with sound, each 2:00.
Curver Thoroddsen (1976) is an artist from Reykjavik, Iceland. He earned an MFA in Fine Arts from School of Visual Arts in 2009 and currently lives in Brooklyn. Using performances, video and installation, Curver's work explores ideas of identity, popular culture and society with a playful twist. Giving the everyday a new meaning by transforming it to the realm of art and media. Curver has exhibited internationally and in New York and was commissioned by Performa 09 and TB-A21 with his established experimental band Ghostigital. Ghostigital has performed worldwide with releases on Ipecac Recordings, Honest Jon's and Bad Taste Ltd. Collaborations include Björk, David Byrne, Mark E. Smith, Alan Vega, Dälek and Sensational. Curver is a 2009 recipient of the Svavar Gudnason and Asta Eiriksdottir Memorial Award and a current resident in the LMCC Workspace program.
Fiona Whitty
Warlord's Wanton Granddaughter, Video, 2010, 5:00
Fiona Whitty was born in Ireland in 1984. Fiona is a visual artist and her practice is documentary style film or event-based. Her work is socially interactive and engaging. She is currently exploring the creation of sustainable models for future arts practice. Fiona is recipient of the LAUNCH Emerging Artist's award 2006. Her solo exhibition, entitled
Waiting Room 2007
led to her residency 'Art for Socially Responsible Transformation' in Biella, Italy. Selected group exhibitions include Antwerp, Bangkok, Milan, Lagos, Nigeria, Jamaica and her in her native Ireland. Fiona holds a BFA from D.I.T Ireland Fine Art, 2006, and in 2009 she graduated from an MA program at Chelsea College of Art and Design, London. She is steering committee member of This Is Not a Gateway Organisation. Upcoming projects will involve further research in Jamaica, Nigeria and Ireland.
Shana Moulton
The Galactic Pot Healer, Video, 2010, 8:32
Shana Moulton was born in Oakhurst, CA and is a Brooklyn-based video, installation, and performance artist. Shana attended school at University of California at Berkeley and Carnegie Mellon University. She has participated in residencies at Skowhegan, De Ateliers, LMCC, and Harvestworks; she was also a New Commissions artist at Art in General in 2009. Moulton has exhibited and performed at venues such as The Wexner Center, Migros Museum, MoMA P.S.1, The Kitchen, Performa 09, Electronic Arts Intermix, the Andy Warhol Museum, and Socrates Sculpture Park. Her work has been reviewed in the Village Voice, Artforum, the Brooklyn Rail, the New York Times, Artnet Magazine, and Flash Art.