Black Zero
by Aldo Tambellini and Group Center (1965-1968)
featuring Aldo Tambellini (projections), William Parker (music), Ben Morea (noise machine), Maggie Clapis and the voice of Calvin C. Hernton (poet)
A project by Christoph Draeger
November 22 , 6 p.m.
White Box, New York
329 Broome Street
between Bowery and Chrystie Streets
The critically acclaimed "Black Zero" (1965-68) by Aldo Tambellini was one of the very first multimedia performances. It will be re-staged in its original form by the artist who created it, Aldo Tambellini. We are very pleased to announce that the music for the piece will be improvised live by William Parker (double bass), whom the Allmusic Guide calls Free Jazz's pre-eminent bass player today.
Aldo Tambellini wrote this synopsis for "Black Zero" in 1965: "At present, BLACK ZERO keeps on changing and growing with each presentation, just like the BLACK balloon which appears in the performance agonizingly grows, expands and disappears. In BLACK ZERO, you'll be inside of the black womb of the Space Era. And in that womb, the Black poet, Calvin C. Hernton, the famous African American poet will read his poems. The plastic gas-masked figure floats like an astronaut under the expanding simultaneous motion of the stars. The television monitors pulsate in their insane cosmic dance. One day the light and the energy of the sun will become ice cold and the enormous sun disc will become BLACK."
The last day of Performa'09 offers the unbelievably rare opportunity to see Tambellini's legendary 1968 "Electromedia" happening, Black Zero, for the first time in 41 years. The performance was painstakingly reconstructed by the artist himself (who is 79 now) in collaboration with Christoph Draeger. It will feature one more original member of Group Center, painter/activist/anarchist Ben Morea, and a rare recording of the voice of the legendary black poet Calvin C. Hernton, which had only recently been unearthed. His original poems for Black Zero, recorded by Tambellini in 1966, include the inflamatory "Jiggerbugging in the Street". To see Black Zero at White Box not only offers the rare opportunity of a late glimpse into the tumultuous era of the mid-sixties, but is a truly mind expanding experience. Black Zero was created as an universal, abstract vision, intercellular and interstellar at the same time, yet symbolically, it was also a highly political account of racial tensions. It will be an exciting experiment to see how the political aspect of the piece, firmly rooted in the revolutionary culture of the decade when it was first created and performed, will impact on a contemporary audience. Black Zero was a radical precursor to Warhol's Plastic Inevitable and Rock music's psychedelic light shows. Whereas Warhol used The Velvet Underground, Tambellini collaborated with Free Jazz improvisers Cecil McBee, Alan Silva, Bill Dixon and Archie Shepp and the UMBRA poets Ishmael Reed, Norman Pritcher and Calvin Hernton. Tambellini's philosophical views, recorded in the mid-sixties, are strikingly contemporary: "The concept of instability, impermanency, weightlessness, will become part of man or man part of it. Concepts will become instantaneous, not everlasting but ever changing."
Press excerpts:
"Black Zero, a Space-Light-Sound Event, is a live production in which the eye and the ear is charged with the shifting, changing, exploding images of our time. Flashing Lumagrams, hand painted projections by Aldo Tambellini, the rotations of Ron Hahne's Spiral Machine sliding across moving screens, Ben Morea's clamorous machines, the strident sounds of Alan Silva on bass, the hard reality of black poet, Calvin C. Hernton, flashing light and gas-masked heads form a continuous experience in Space, Light and Sound."-News from the Bridge, November 23, 1967
"The new avant-garde if cinema (light play) has moved 10 years forward into explorations....their dreams are so much farther advanced than the rest of the human activities that it will take at least another 10 years, maybe to catch up with the artist and to create proper tools to enable him to put those dreams into reality." -Jonas Mekas, The Village Voice, December 2, 1965
This project has been made possible through generous support from Pro Helvetia.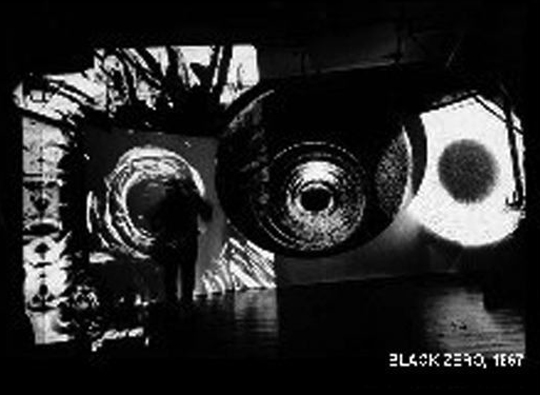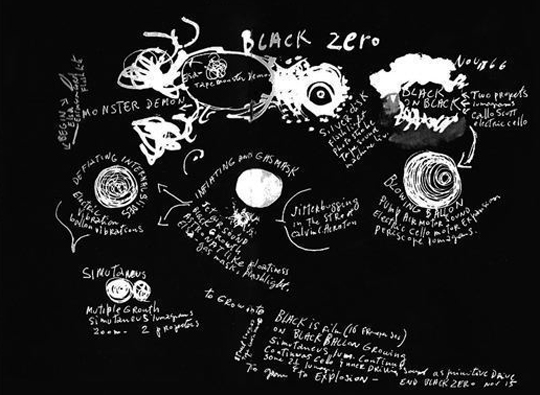 Aldo Tambellini (born Syracuse, 1930)
Tambellini is a painter, sculptor and media-arts pioneer who made his first video in 1965, the classic "Black Is". The same year he began to experiment with multi-media performance ("Black Zero"), incorporating film, slides, music, poetry and dance-he called the new art form "Electromedia" . In 1967 he opened the Black gate theatre in the Lower East Side of New York, a forum for experimental film and video. In 1968, he collaborated with his friend Otto Piene in what is regarded as the first Television broadcast created by visual artists ever, "Black Gate Cologne", for the german national TV station WDR. In 1969 he won the Grand Prix at Oberhausen Film Festival for "Black TV" ("...an artist's sensory perception of the violence of the world we live in, projected through the television tube."). He was a fellow at the center of Advanced Visual Studies at MIT in Cambridge from 1975-1986. He lives and works in Cambrigde MA.
William Parker (born New York City, 1952)
In the early '90s, free jazz was kept alive by a fairly large group of Lower East Side musicians, many of whom gathered around the music's pre-eminent bassist, William Parker. Parker was the scene's major catalyst for musical activity. As a bassist, Parker is possessed of a formidable technique, albeit an unconventional one. Unlike a great many jazz bassists, Parker was not formally trained as a classical player, though he did study with three of the finest jazz players of the '60s. Consequently, Parker's style is based on a tradition of self-expression and experimentation. His arco work is possibly the most fascinating aspect of his idiom; Parker excels at the creation of dense, hyperactive streaks of color, gleaned from the inherent harmonic properties of the instrument. At bottom, he is a textural player. Parker's pizzicato style is overwhelmingly percussive, in intent and effect.
Ben Morea (born 1941)
Morea is a painter and activist, and he is an original member of Group Center. He was the founder of Black Mask in 1966 and started the radical East Village collective Up Against The Wall Motherfucker in 1967. He lives in Colorado.
Calvin C. Hernton (1933-2001)
Hernton, a founding member of UMBRA was for many one of the greatest black poets in the 1960's. His radical politically charged poetry strongly influenced his friend Ishmael Reed (both men took part in Tambellini's first "Electromedia" performance, Black, in 1965), as well a later generation of poets such as as Gil Scott Heron.
Christoph Draeger (Born Zurich 1965)
Draeger is a conceptual artist whose work has been exhibited internationally since 1993 in museums and venues such as Paco das Artes in Sao Paulo, Kunstwerke in Berlin, Kwangju Biennial, Centre Pompidou in Paris, Kunsthaus Zurich, Big Torino Biennial, Brooklyn Museum, Whitney Museum in New York, Moscow Biennial, Liverpool Biennial, CCA in Warsaw and Carrillo Gil Museum in Mexico City, among others. Christoph Draeger first moved to New York in 1996 on a one year-scholarship for the International Studio Program at P.S 1. He lives and works in NYC.